Product: PDFTron.NET.x64.
Product Version: 10.1, 10.4.0
Please give a brief summary of your issue:
Using MergeXFDF function does not correctly render the markups contained in the xfdf string.
Replies do not show under the parent markup but instead is shown along side it.
The status of the markup does not show in the generated file.
Please describe your issue and provide steps to reproduce it:
Steps:
1.) Open a pdf file via the c# library
2.) Call the MergeXFDF function with either of the provided files as parameter
from-code4.xfdf (2.9 KB) (generated using my own code)
from-pdftron2.xfdf (2.9 KB) (generated using exportAnnotations function of webviewer)
3.) call doc.save() function
4.) Inspect the generated file
Expected Result: Markup has a reply and is shown as such, the status of the markup is also shown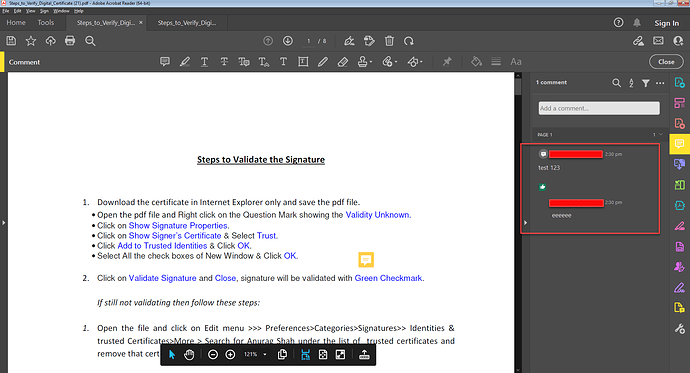 Actual Result: Markup's reply is shown as another markup and the status of the parent markup is not shown

Please provide a link to a minimal sample where the issue is reproducible:
N/A