I shifted all the data element from
header
to
toolsheader
but for dataElement="viewControlsButton" I am unable to get dropdown as shown below.
Shifted by :
header.getHeader("toolbarGroup-Annotate").push(object);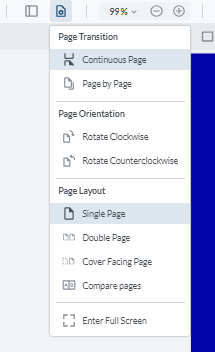 Secondly show me how to create custom button and linking with any of the dataElement from header like:menuButton,leftPanelButton etc. Please write basic code snippet and not provide documentation link.
Thirdly I am unable to shift below highlighted button in tool header.Code is also provided.



code:
const mytoolbutton1= {
type: "customElement",
dataElement: "zoomOverlayButton",
element: "zoomOverlay",
hiddenmobileDevice: true,
}
const mutoolbutton2={
type: "toolButton",
toolName: "TextSelect",
}
instance.UI.setHeaderItems(function (header) {
header.getHeader("toolbarGroup-Annotate").push(mytoolbutton1);
header.getHeader("toolbarGroup-Annotate").push(mytoolbutton2);
}